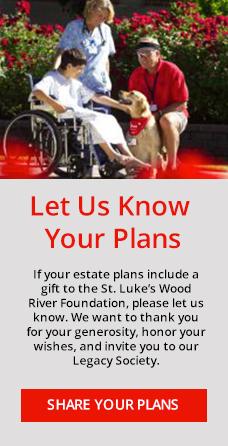 With planned giving, donors establish their personal financial goals in a well-conceived charitable estate plan that includes gifts to non-profit institutions such as the St. Luke's Wood River Foundation.
There are several ways in which planned gifts can be structured—from charitable gift annuities, to lead trusts, to charitable bequests. Planned giving represents an enormous opportunity to further the efforts of the Foundation while at the same time offering the potential for significant tax benefits.
Because establishing a planned gift is a highly personalized decision, the St. Luke's Wood River Foundation has teamed with Thompson & Associates, a national estate planning firm with over 20 years of experience, to offer complimentary charitable estate planning services to employees and community members. Estate planning experts at Thompson & Associates will work with you to find the planned giving option that best suits your personal needs while furthering your philanthropic goals.
Donors who choose to include a planned gift in their will or trusts become members of our Legacy Society.
For more information or to schedule an appointment with Thompson & Associates, contact Marsha Edwards at (208) 727-8416 or edwardma@slhs.org.
Legacy Society
Legacy Society members are individuals or couples who have generously planned for the St. Luke's Wood River Foundation in their wills or trusts, or have made other forms of planned and deferred gifts. These types of donations help ensure that we can continue to support health care excellence long in to the future.
We are grateful to the following individuals and couples who have included the St. Luke's Wood River Foundation in their estate plans:
Myrle and Buzz* Bradshaw
Dayle Fowler*
Gay and Bill Fruehling
Hilary Furlong
Benjamin Holmes and Carol Scheifele-Holmes
Judith A. Jellinek
David H. Lindow
P. Scott McLean Jr., MD
Joan Donaldson Robb Mickelson*
James O. Moore
Cynthia and Kingsley Murphy
Keith T. Sivertson, MD
Martha* and Travis Reed
Rolande and James Vaughn
Delores and William Winslow*
*In memoriam