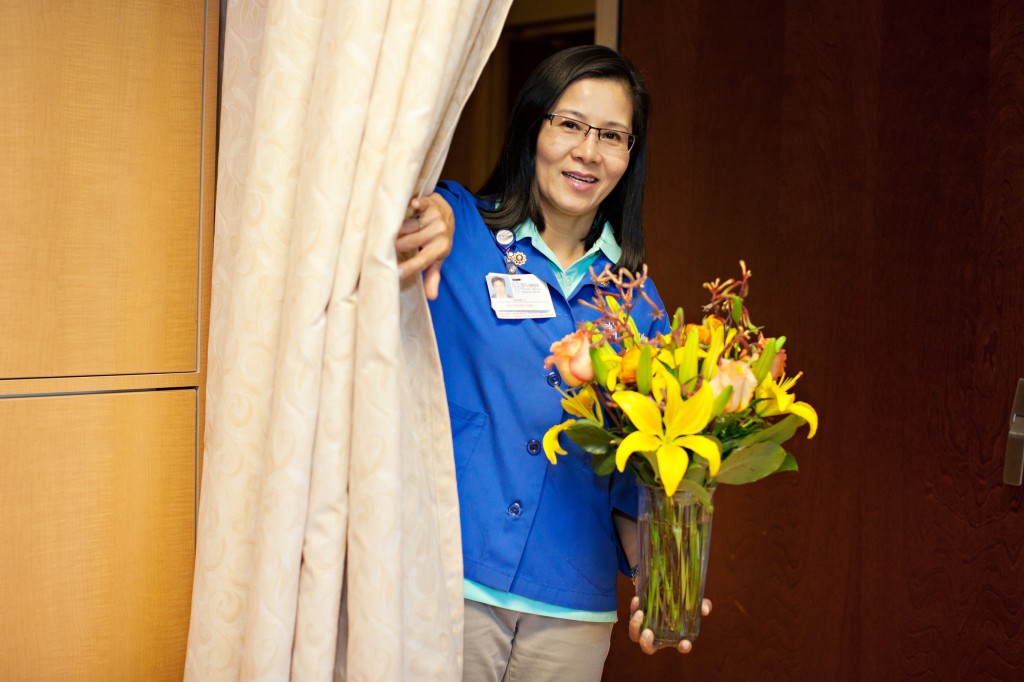 The St. Luke's Wood River Volunteer Board was organized to advance the interests of the hospital and its patients and to promote good public relations within the community. One of its primary missions is to manage and administer our volunteer programs, of which there are many.
Volunteer Opportunities
From providing wheelchair assistance, to serving as the liaison between Surgery Services clinical staff and family and/or friends of our patients, St. Luke's volunteers play a vital role in the daily operations of the medical center. Volunteers also help in departments such as Medical Imaging, Health Information Services, Rehabilitation, Patient Registration, and the Laboratory.
Most volunteer services are performed in three-hour shifts, and a general orientation and on-the-job training are provided to every volunteer. The six main opportunities for volunteering at St. Luke's Wood River Medical Center include:
Guest Services – Volunteers greet, direct and escort patients and visitors; receive and deliver flowers; and provide discharge transport for all patients via wheelchair.
Surgery Services – Volunteers greet and assist patients and visitors to the surgical suite, assist family members waiting for patients in the surgery waiting area, and provide clerical assistance to surgery staff as needed.
Inpatient Services – Volunteers distribute magazines, newspapers and videos to patients, as well as assist nursing staff with clerical tasks as needed.
Special Projects – Volunteers participate in print and television ads, participate in training drills for clinical staff, and provide support at community events.
Pet Therapy – Volunteers bring their trained and certified dogs into the hospital to visit with patients. If you are interested in learning how to certify your dog for the St. Luke's Pet Therapy program, please contact Deb Hobart at hobartd@slhs.org.
The St. Luke's Gift Shop– Also known as Retail Therapy, the Gift Shop is run by volunteers and managed by the Gift Shop Committee of the Volunteer Board. All proceeds of the shop benefit hospital services and programs.
How Do I Become a Volunteer for St. Luke's?
If you are interested in becoming a St. Luke's Volunteer please contact Delilah Carden at the St. Lukes Wood River Foundation, 208-727-8432 and cardend@slhs.org