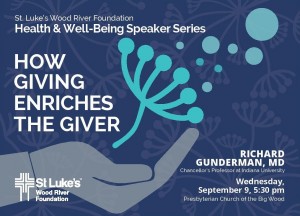 KETCHUM, ID (August 14, 2015)–—Chancellor's Professor at Indiana University, Richard Gunderman, MD will present How Giving Enriches the Giver at 5:30 p.m. Wednesday, September 9 at the Presbyterian Church of the Big Wood. Dr. Gunderman is one of St. Luke's Wood River Foundation's featured Health and Wellness Speakers for 2015. The event is free to the community.
The healing power of generosity deeply touches those who receive and those who give. Dr. Gunderman will discuss the personal advantages of generosity and how giving shapes and heals a community. He will explore how giving improves happiness, impacts physical wellbeing, and is the ultimate path to meaning and growth. Explaining the ethical core of sharing and examining its importance for the giver and receiver, the presentation will deepen the audiences' understanding of what it means to share.
Dr. Gunderman writes, "Our most important philanthropic resource is our imagination, our dreams. When we recognize dreams as our most important philanthropic resource, we realize that one of the greatest gifts we can give another person is to believe in them."
Dr. Gunderman is Professor of Radiology, Pediatrics, Medical Education, Philosophy, Liberal Arts, and Philanthropy at Indiana University. He is a faculty member at Indiana University's School of Philanthropy, the world's only PhD program in the field, a health correspondent for The Atlantic, and author of one book on generosity, We Make a Life by What We Give.
He received his AB Summa Cum Laude from Wabash College, MD and PhD (Committee on Social Thought) with honors from the University of Chicago, and MPH from Indiana University. He also received an honorary Doctorate of Humane Letters from Garrett Theological Seminary at Northwestern University. He was a Chancellor Scholar of the Federal Republic of Germany.
To attend this event, RSVP to Kristin McMahon at 208-727-8419 or mcmahonk@slhs.org by Monday, September 7.