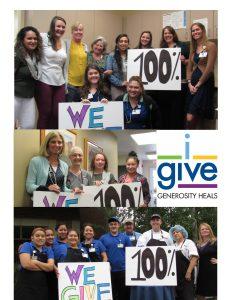 Employee Giving
Generous and compassionate St. Luke's Wood River employees are part of our valued community of donors. This year, 87% of SLWR employees contributed to the Employee Giving Campaign
Employees may give through bi-weekly payroll deductions, PTO hours, gifts of cash, check or credit card.
We invite you to partner with us by making a gift.
Ways to give:
Give PTO through payroll deduction Service Catalog Item – HR Service Center hr.slhs.org
Give a one-time credit card gift now slwrf.org/donate/
Giving Back
Staff Education: Last year, the SLWR Foundation invested $36,444 in education to send staff to conferences and bring nationally renowned educators to the Wood River Valley.
Circle of Friends: The Circle of Friends fund enables employees to help each other in times of crisis. Last year Circle of Friends assisted 22 employees in need.
Carol and Pat McLaughlin, MD Endowment Fund: This fund provides need-based assistance for St. Luke's Wood River employees and their families, to help with emergency medical expenses.
Compassionate Care: The Compassionate Care Program helps patients in need by assisting with the cost of lodging, transportation, supplies, medications, and other health-related necessities.
COVID-19: The COVID-19 Response Fund will support COVID-19 health efforts in the Wood River Valley.
Equipment: Generosity has made it possible to purchase 3-D mammography, bedside ultrasound, cardiac treadmill, C-Arm, Mama Natalie, and other simulation training equipment.
Scholarships: Scholarships are available for mammograms, mental health services, and lymphedema treatments.
Every gift makes a difference and it's easy to give! Please join us by giving what you can.